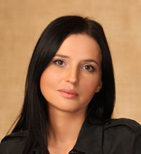 Masha Traub

Writer, journalist
Spellbound
16 November 2011
I used to work together with Natalia. Actually, she could afford not working at all. But having an explosive temper and furious energy Natasha could not and did not want stay at home.
She puled up in a stride to the parking taking out of her car a hefty package. Those were the days when we young girls after hours gathered in a bar and drank canned gin and tonic. It looked a very grown-up behavior and G&T was very tasty. Natalia entered the bar wrinkled her nose in disgust, raked up cans into the trash bin taking out a bottle of good wine, smelly cheese or fruit. Actually, the first coffee machine Natalia also purchased using her own money.
- Girls you surely cannot drink this swill, it's bad for the stomach - she used to tell us pouring the wine. Herself inclusive.
- You're driving - we gasped.
So what? - Natasha was surprised - I do not drink your crap, I drink good expensive wine. In Europe, by the way, this is quite normal.
She could drink a glass, or two, sometimes even more. Then she started the engine and drove back home. If stopped by inspectors she calmly with well trained motion invested a big bank note into the driving license, gave a dazzling smile, joked and exhaled into the alca-tester and rode off. Sometimes she was spared the exhale test.
- Oh, there will be the end to your driving, God forgive me, - our guard uncle Yura used to say looking at the laughing Natasha taxiing away from the parking lot and playfully trying to maneuver through the gate.
In fact I drive better when drunk than when sober! - said Natasha with conviction - and strictly speaking who's drunk?
Surprisingly, it was like she was spellbound. She did not have a single scratch on her car, no problem with traffic police whatsoever.
If Natasha drank too much then she made herself some coffee (in fact this was the purpose of her bringing coffee machine in the office), drank two cups at once and drove home.
- Book taxi, leave the car parked here, tomorrow you will pick it up - uncle Yura was stretching his hands as a barrier, blocking the exit from the parking lot when Nataliya drank more than usual.
- No way. I feel sick in the taxi.
Which was the ultimate truth. Natalia could stay inside the car only in the driver's seat.
- Oh my God, how will you drive? - we uttered when she stubbornly sat behind the wheel even when her standing was problematic.
- Everything's gonna be just alright - she waved her hand at us.
- Can you stay away from drinking? - uncle Yura inquiried.
- I sure can but I do not want to! - Natasha was laughing.
Her son turned eighteen. Natalia and her husband presented him with a car. His name was Nikita and he had been droving since the age of fourteen, so that getting the driver's license and graduating from the driver's school was a mere formality. Natasha was extremely proud of her son. She mentioned on numerous occasions that her took after her; he got the feeling of the the car and for him driving was easy.
So to celebrate the occasion Natalia brought food and good drinks. We were sitting late that evening. Somewhere on the other side of the city, with his friends, Nikita had his swinging birthday party .
Natalia's husband called her. She grew sober at once.
Nikita left the restaurant and climbed inside the car; his girlfriend was sitting next to him. She did not want to go and asked him refrain from driving. But the young man was willing to enjoy the night look of Moscow, to look at the dark water of the Moskva River, he wanted to be involved in kissing and romance ... His girlfriend gave up. They were young and happy and they were kissing when the traffic light was red.
What exactly happened then I do not know. Perhaps some reckless driver cut them or maybe they were just carried away with each other. According to report it was Nikita who made the mistake loosing t control of his car. They literally broke the fence at the embankment. The girl was fastened with the safety belt which saved her life. Nikita suffered the spine injury. Doctors did their best but could not do more. The doctor's arguments were we saved Nikita's life. Despite the lack of young man's driving experience plus there was alcohol detected.
Natasha was crying in the hospital like beluga.
- It's me, who should have suffered the accident! Why my son? Take me! Not him! Why? It should have happen to me, not him!
Her husband was sitting on a banquette, her hands pressing firm his ears and head.
- It's your fault - he said to Natasha, - he was following your example thinking he will get by. You joked too much about your being spellbound.
- Lord, why he was driving when he was drunk? – Natalia was crying.
Her husband kept silent. He only have her a heavy look the kind of look devoid of any emotion.
Nikita survived. He mastered the trick of sitting upright. As for walking, this is out of question. Until the end of his life he will be driving a wheelchair, noiseless, having control panel, the wheelchair easy to maneuver and equipped with the latest technology things. It was a grim coincidence that the wheelchair was delivered at his next birthday. His father turned gray that day when he tore the wrapping.
Natalia became an alcoholic in a quick and painful way which is typical for women, I even do not know whether she still alive.
Comments
So that to post a comment you need to login the web site